# Raby Bay Mechanical Repairs
Mechanical Repairs
We're here to look after you and your car at our Cleveland Workshop
Affordable, reliable & qualified car mechanics
We specialise in mechanical repairs with experienced mechanics. Whether you need a quote on your motor vehicle repair or need the job done now, bring your vehicle to us, and we'll help you out. We'll make sure you know what's going on upfront and will take the time to make sure you understand what's happening in your vehicle. If you want to see the parts we've taken out, just let us know, and we can show you.
We want you to be confident that you've got the best service and your vehicle is running the way you expect.
For more information on vehicle repairs, visit the Queensland Government website to understand more about finding a reputable and qualified repairer.
Mechanical Repair Specialists
Engines
We specialise in repairing car engines and it's components.

Brakes
We're experts in repairing and maintaining your car's braking system.

Suspension
We're car suspension specialists, across shock absorbers (dampers), springs, struts and anti-sway bars.

Steering
From your steering wheel to the wheels, we repair power steering, rack and pinion, and box systems.

Transmission
We repair and service, Gearboxes, Clutches, Manual and Automatic Transmisions.

Tyres
We can source, fit and balance your tyres as part of your repair or service.
Mechanical Repair Services
We offer a range of motor vehicle and mechanical repair services, which include:
Brake and Clutch replacements and machining

Cooling System testing and repairing

CV Joint replacements and servicing

Diesel repairs and servicing

EFI Service and Diagnostics

Engine reconditioning and builds

Front end Suspension and Steering systems

Mufflers and Exhaust systems

Transmission and Diff overhauls and servicing

Tyres and Wheel alignment

Air conditioning

Batteries

Windscreens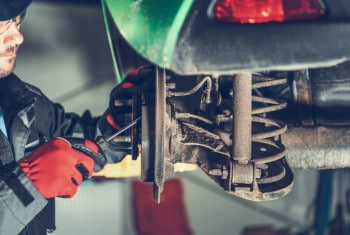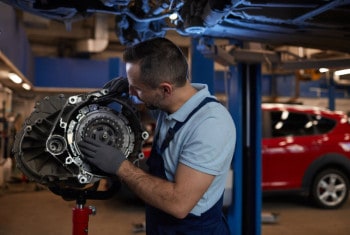 Local, Trusted Auto Mechanics in Cleveland, QLD
Our conveniently located auto workshop is in Cleveland, on Brisbane's Bayside.
And we're only a 10-minute walk from the Cleveland Railway Station (700m). Call us Ph: 07 3286 2583
4/86 Shore St West, Cleveland, Queensland, 4163
We're here to take care of your car!
Call us now to book in your car for repair
Mechanical Repairs
We repair and service a wide range of vehicles